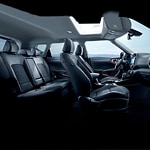 If you are looking for a subcompact car, then you can try the Kia Soul. It has plenty of seating and cargo room. You will be able to seat five people in your car. It is great for both children and adults. You don't have anything to lose by driving this vehicle because it comes with a long warranty.
This vehicle has front-wheel drive. It is great on gas because it can get 25 to 29 MPG while you are driving in the city. It can also get 31 to 35 MPG while you are driving on the highway.
You can stay connected while you are driving because it has a user-friendly infotainment system. The infotainment system will allow you to use your navigation, listen to music, and get traffic information without taking your hands off of the wheel.